Nostalgia by Kim Goldfarb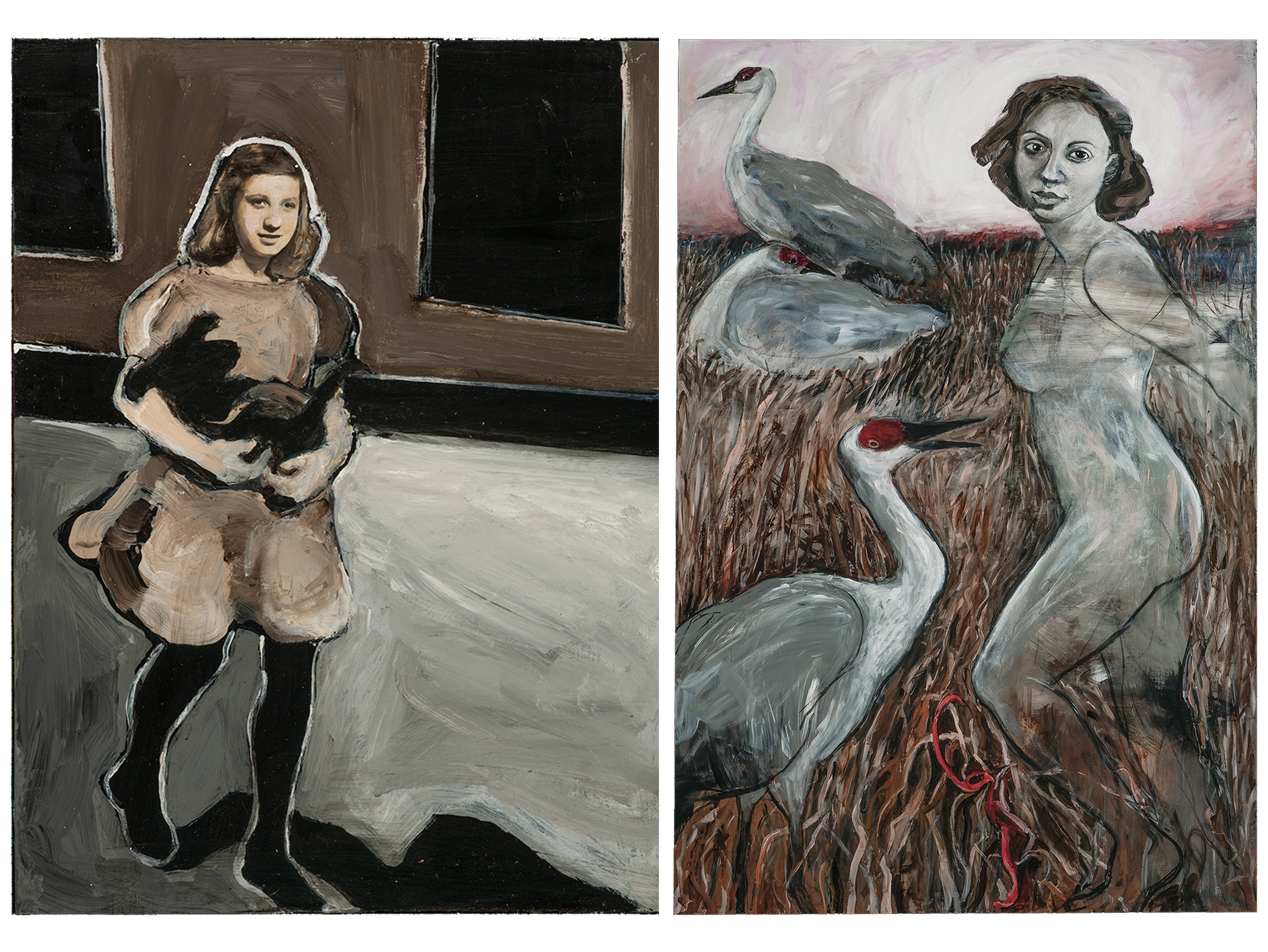 "Nostalgia Show" Statement:
I love black and white photos, and my work is often inspired by them. An old tattered yearbook from Albuquerque High's graduating class of 1949 caught my eye walking down the aisle at a local antique mall. It held stories from a young man's senior year in high school. I wondered about his life. Did he marry and have a family? Work at Sandia
or Los Alamos National Labs? I will let the mystery remain, but I was intrigued.
Soon I found individual black and white photographic portraits ranging in years from the 1920s to
the 1960s. Voices from the past now residing at an antique mall. I purchased the yearbook and the
loose black and white portraits. I felt I needed to breath life back into these people and immortalize
them in some way.
For many of the pieces in this show, I have taken the actual photographs and securely adhered them to art panels and carefully painted new scenes of life for these people. It brings me joy to honor them with my artistic
vision. The yearbook is still intact. Those forever young faces will continue to inspire my paintings.
Working with the old photos and yearbook led me to think of my own childhood in rural
south Georgia. When I was a child there was segregation which I did not understand and then
thankfully integration. Some of the things I experienced during these times left emotional scars.
Now, having reconciled with my past, I feel I can find forgiveness for the place that birthed me.
In a sense I can go home again; ah, the journey.
Kim H. Goldfarb
Bio
Kim Goldfarb received a BFA degree in drawing and painting at the University of Georgia. She pursued a painting career and gallery directorships in Chicago simultaneously for seventeen years. In the early 90's she changed direction in her art endeavors and began working in figurative sculpture. She furthered her sculpture interests with a move to New Mexico in the late 90's with exhibits at Marigold Arts, Manitou Gallery, and Evoke Contemporary, all in Santa Fe.
In 2008 an experience at the Pilchuck Glass School changed the direction of her art again. She designed several remarkable glass sculptures which were blown and hot sculpted by a prestigious glassblowing team. The fast paced, collaborative experience that Goldfarb had directing the production of her glass sculpture profoundly affected her. The sculpture that she produced on her own had become too slow and tedious to satisfy her. In a bold move she decided to switch gears and return to painting.
Since 2009 she has been painting in earnest, producing a body of work that she is very proud of. Some things have remained constant in her work, the focus on the figure and the emotions that the human form provokes, whether in painting or sculpture. Working with the figure in sculpture, in fact, has given her the sure hand that you see in her paintings. As Goldfarb's paintings evolve, one of the most important things to her is that the viewer feels something when they engage with her work.
Artist Statement:
When I create I feel that I make contact with the Holy Spirit. I am a co-creator with him.
This experience is like no other. I am plugged into life force and feel that energy
flowing through me. When I paint people I feel that I am birthing life. One of the most
important things in the painting process is to reveal emotion. The people in my paintings
often look outward and make eye contact with the viewer. They are beckoning the viewer
to have an experience with them and make a connection. I have deep love and compassion
for my fellow human beings. I hope that comes through in my work.